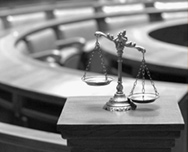 We are a client-centered law firm dedicated to advocating and defending the rights and interests of consumers, families, residential tenants, and small businesses. We promote access to legal services and remedies for all people, including individuals, families, and small businesses that might not otherwise be able to afford legal representation.
Our attorneys often represent claims that involve "fee-shifting" provisions. This means that if you prevail in court, the defending party may be responsible for paying your court costs and attorney fees.
We also offer flexible options for legal services. Depending on individual client's needs and objectives, we can provided limited-scope representation on key aspects of your case or full representation in the evaluation, counsel, negotiation or mediation, and litigation of your legal matter.
Cameron Sutherland is a proud participant in the Washington State Bar Associations's Moderate Means program (click here for more information), which offers reduced-rate legal services for eligible low and middle-income people.
Finally, we offer many payment options, and we accept all major credit cards.
From our initial consultation to your final order or settlement, we can offer competent, dedicated, and conscientious legal counsel and representation to all clients, regardless of their economic circumstances.
Attorney Profiles
Our Philosophy
We treat each of our cases like it was our own legal case. We recognize that trial is not always the best option for a client, given the accompanying stress and financial commitment. Like you, we want the most efficient and effective solution to your legal problems. Not the most effective solution for our billable hours. You can trust, that we will address your issues and provide our advice and guidance from this perspective.
We also want our clients to be as informed as much as possible of their issues. We want you to be invested in your action, and to be so, there often needs to be a bridge of understanding between the law and the individual. We think of ourselves as that bridge. We are committed to being accessible and transparent, and taking the time to explain your legal issues in a straightforward, understandable manner.